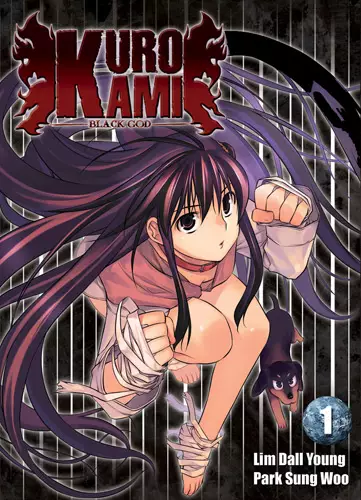 The manga comic Kurokami (black god in the us) finally gets an new anime. About damn time if ya ask me. Those who don't know the story here's a bit of back story.

kuro kami is about Keita Ibuki is an independent and struggling freelance computer programmer who, with two of his friends, is developing and trying to sell a video game program to big-time video game companies in Tokyo while trying to stay afloat and survive financially with money being given to him by his 21-year old childhood friend Akane Sano. He had a chance meeting on one night with a high Mototsumitama named Kuro while eating alone at a ramen stand. He gives her his dinner, a bowl of ramen, and tries to protect her when she is attacked in an ambush by an unknown Tera Guardian. Keita loses his entire left arm during the fight between the Tera Guardians, but Kuro was able to save his life by exchanging the amputated arm with her own left arm since she has enhanced healing abilities like all Mototsumitamas. This creates a contract between them, which makes her more powerful than before. However, Kuro warns Keita that they need to be together all the time in order to be at their strongest.


As Kuro stays with Keita and gets acquainted with him while meeting with other Tera Guardians and their human masters, they are targeted by the strongest Tera Guardian clan of the East, the Shishigami (Lion God) Clan in an attempt to kidnap Akane and bring about the destruction of the coexistence balance, which Tera Guardians are supposed to protect. Meanwhile, Keita is determined to find out why his mother had died after seeing her double as a young boy and find out who is responsible for trying to destroying the coexistence balance on Earth.




Now you know what make this anime special.


The anime adaptation of Black God is to be produced by Sunrise, which would be directed by Tsuneo Kobayashi with Reiko Yoshida as the series' supervisor and Hiroyuki Nishimura as the series' animation director and chief character designer.

Among the seiyūs involved in the upcoming Sunrise production include Noriko Shitaya, who will play as Kuro, and Daisuke Namikawa as Kenta.[11] Other seiyū who had already been announced for the production include Sayaka Ohara as Akane Sano, Yukari Tamura as Excel and George Nakata as Steiner. Its title is called Kurokami: The Animation or Black God: The Animation. The date for the anime to air on Japanese TV is on January 2009. It was announced officially by Bandai Entertainment that Kurokami: The Animation will air first on January 8, 2009 simultaneously in Japan on TV Asahi and in the United States on ImaginAsian, followed by South Korea on January 9, 2009 in AniBOX.

in other words as this air in japanit will simultaneously air in English. I'm excited about that. so i advise everyone to look for this anime.



---